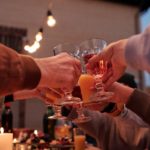 For numerous reasons, including the requirement for a lot of social engagement, holidays can be difficult for people with cognitive impairments. The traditions and expectations that are frequently associated to holidays can be challenging for those with cognitive problems.
I know I have had issues even with this current holiday season. Even though I was a social butterfly of sorts before the autoimmune encephalitis changed that, I do sometimes have issues with too much social stimulation and need a time out.
Here is a link to an article that can assist diffuse the situation's effects and let everyone enjoy themselves.