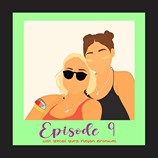 Another great episode from the Trauma But Make It Funny podcast host Brianna. This episode touches on some very serious issues that many us may have faced in our past, eating disorders and suicide, as well as the stressed of being a college athlete. many thanks to Brianna and her guest, Megan, for sharing.
Eating disorders are still puzzling to the medical community and even though very serious illnesses themselves, they are also being viewed as symptoms. Eating disorders mostly affect women and for various reasons but mostly someone said something to them about their weight in a negative way and not in a way that expressed concern for their health. In most cases, it is a person that the sufferer admires or is like a coach or mentor or parent even. Luckily, these new generations are getting that fact and changing things…for the most part.
I didn't have an eating disorder but suicidal thoughts/attempts were a part of my teens, but I was lucky enough to have an awesome cousin who helped me through a lot of shit back then and helped me defeat those thoughts and recover. she passed years ago but i talk to her still. love ya gypsy !!
However many people do not have someone or feel they don't so, they fall through the cracks feeling that ending their life is a better option than living. This will lead to friends and family developing feelings of guilt of which none of it is their fault but still, one will always wonder what I missed, how could I have helped, why did they do that??? but that is something each will handle individually but will eventually need to be put down and know it is acceptable to do so.
So, if you are thinking about suicide or worried a friend or loved on is, i will be willing to talk with ya but its probably in yours or their best interest to get some real help. The Lifeline network is available 24/7 across the United States: 1-800-273-8255.
The National Eating Disorders Association (NEDA) is the largest nonprofit organization dedicated to supporting individuals and families affected by eating disorders. You can contact the Helpline for support, resources, and treatment options for yourself or a loved one. Helpline volunteers are trained to help you find the information and support you are looking for – 1-800-931-2237. To support NEDA, who helps those in need with prevention programming, education and support resources, and helping to move research forward so we can better understand and treat the illness.
---
On this episode of Trauma, But Make It Funny, Bri welcomes her cousin, Megan Bromwell. Megan tells the story of how a really horrible start to her freshman year of college changed her life. They dive into struggles that Megan faced that include dealing with the suicide of a best friend, developing an eating disorder, and the struggles and pressures of being a college athlete (but also kicking ass).
LISTEN TO FULL EPISODE HERE >>> TRAUMA, BUT MAKE IT FUNNY Episode 9: Megan and the Terrible Freshman Year
Some of the subjects discussed during this episode can be sensitive, so there is a trigger warning at the beginning of this episode. Please take care of yourself when listening.
---
Brianna​, founder of Trauma, But Make It Funny has experienced trauma first hand. Even though she faced it head on, she found that humor helped her deal with it, but more importantly helped her friends and family deal with it as well.  Despite the name, the Trauma, But Make It Funny podcast is not a stand up comedy rant. In her own words…"Sometimes if you don't laugh, you'll cry. Trauma, But Make It Funny is a podcast about real people, real trauma, and how sometimes laughing is the best way to get through it"