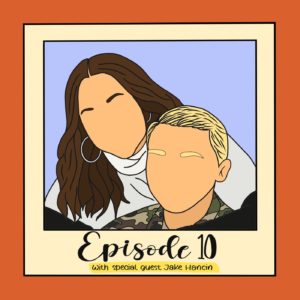 Friends and family influence how we are as a person. Even though similar, there is a difference, but in some cases, the difference gets blurred. This includes having a family member that is going through an illness.
Siblings have a different kind of bond than the parent/child relationship and true, it is not always like the Brady's kinda love, but you can usually see it when you see them together. No matter how tight the bond, the same helplessness, and awkward feeling is there when a sibling is sick. Bri and her brother Jake discuss this and provide a very unique perspective that is not patient, caregiver nor parent.
So, unfortunately, the season finale of Trauma, But Make It Funny is here. It has been great listening to the interviews and the show development and can't wait for the next season.
All the best to Bri and her Trauma, But Make It Funny concept and I am looking forward to what she brings next.
---
LISTEN TO FULL EPISODE HERE >>> TRAUMA, BUT MAKE IT FUNNY Episode 10: Jake and the Morgue
On this season finale episode of Trauma, But Make It Funny, Bri welcomes her brother, Jake Hancin. At first, Jake thinks he doesn't have any trauma to talk about – which is very similar to many people. However, Jake and Bri end up talking about Jake's time in basic training in the National Guard, some super traumatic missions Jake has volunteered for, and what it's like to be a sibling to someone who has cancer. Yeah, we go there.
Thanks to everyone for your constant support and love. Trauma, But Make It Funny will be back soon for Season 2 with even crazier and funnier (traumatic) content.
Some of the subjects discussed during this episode can be sensitive, so there is a trigger warning at the beginning of this episode. Please take care of yourself while listening.
---
Brianna​, founder of Trauma, But Make It Funny has experienced trauma first hand. Even though she faced it head on, she found that humor helped her deal with it, but more importantly helped her friends and family deal with it as well.  Despite the name, the Trauma, But Make It Funny podcast is not a stand up comedy rant. In her own words…"Sometimes if you don't laugh, you'll cry. Trauma, But Make It Funny is a podcast about real people, real trauma, and how sometimes laughing is the best way to get through it"